An IT Consultant is one who advises their clients, mainly business organisations, on how they could use technology to streamline their businesses.
Today, technology plays an integral role in determining the success and growth of a business. However, for most Small and Medium Enterprises (SMEs), many simply can't afford to have an internal development team. 
Hence, many companies turn to IT Consultants to help them streamline their business processes to raise productivity levels.
However, contrary to expectations, many companies who do turn to IT Consultants find themselves investing a few thousand dollars, just to receive a subpar system in return — or worse, none at all. This situation happens when businesses engage with an incompetent IT Consultant.
So, let's take a look at the 7 most common mistakes made by businesses, to ensure that you will engage with the right IT Consultant for your business: 
Mistake #1:
Hiring an IT Consultant with no internal development team
Having no in-house development team means that the IT Consultant would have to outsource projects to develop and implement the strategies. 
However, the risk of this is that the team is unable to cater for agile changes during the development phase. This impedes the project development and hinders the relationship between you and your IT Consultant. 
So how do you know whether your IT Consultant is outsourcing his or her development team? 
Here are some obvious red flags to look out for during the pre-engagement: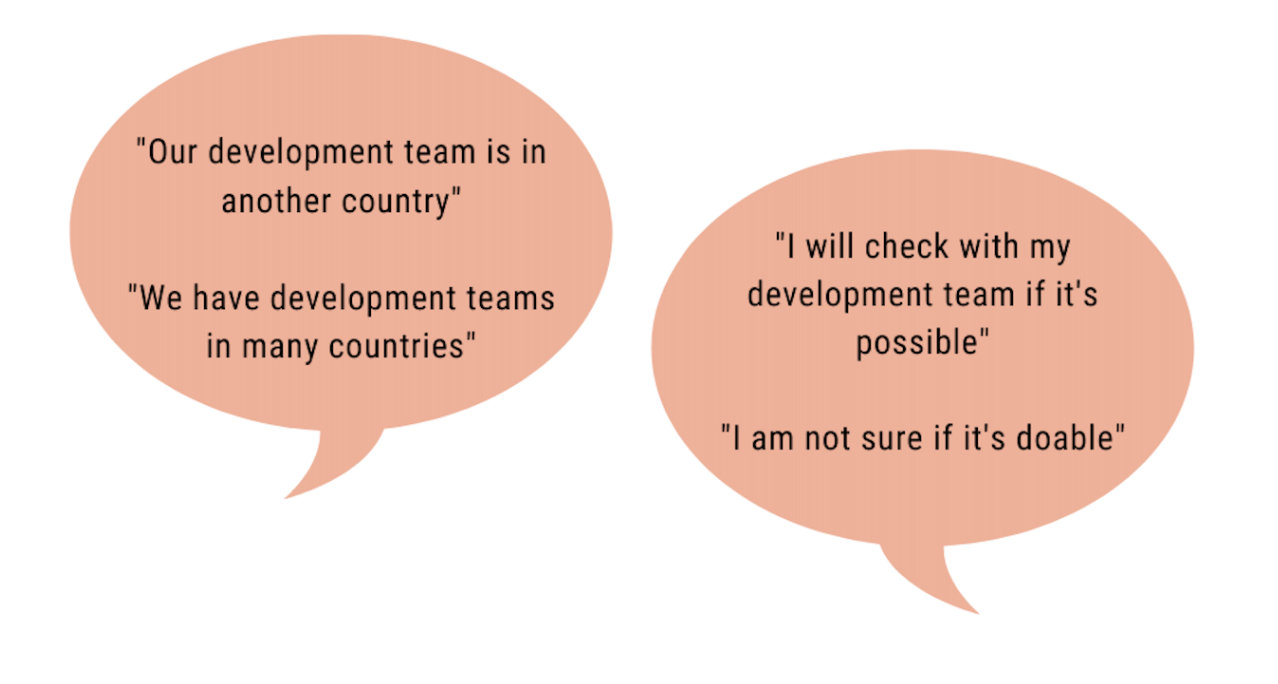 In the event where you have proposed for certain modules to be included in the new system, and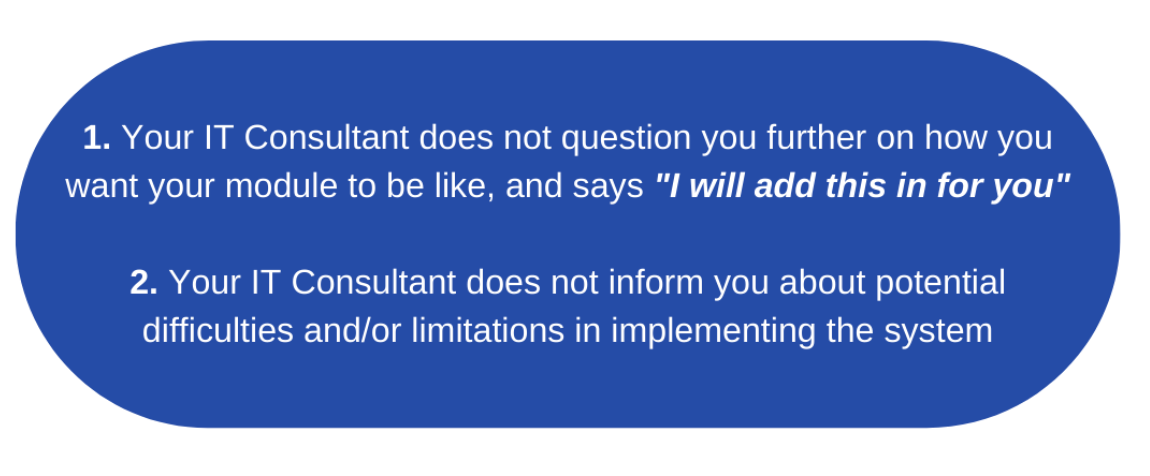 These can also indicate that the IT Consultant is rushing to close your deal.
Mistake #2:
Hiring an IT Consultant with no fundamentals in programming
You may ask, how is it possible that an IT Consultant does not have any fundamentals in programming? Truth be told, there are many IT Consultants with no knowledge of programming. 
While it is not a must for IT Consultants to have fundamental programming knowledge, not having them could potentially open a Pandora's box of issues in the future. One common issue is that they are unable to see the potential complexity of their proposed solution during the development and implementation phase. 
In contrast, an IT Consultant with relevant knowledge in programming will be able to easily identify any potential loopholes in the program early on in the discussion and ideation stage. 
Mistake #3:
Hiring an IT Consultant who has never completed an IT project implementation
Research has shown that failure to implement an IT project contributes to 90% of all project failures. There is a whole new set of challenges when it comes to deployment and implementation as compared to development work.
So, always remember to check with your IT Consultant on whether he/she has successfully completed an IT implementation in the past and inquire what are the challenges they faced during the past project implementation.
Mistake #4:
Hiring an IT Consultant who lacks understanding of digital marketing
Your IT Consultant should be aware of the current trends in digital marketing so that they can develop a system that is unique, relevant and value-adds to your business.
For instance, there is no point in developing a mobile application if there is no go-to market strategy that has been thought through beforehand. You do not wish to invest in a fanciful rocket that nobody gets to see.
Mistake #5:
Hiring IT Consultants who do not consider your business's growth
As a business owner, I'm pretty sure you have plans to expand and grow your business, right?
However, if the system implemented by your IT Consultant is non-scalable*, then the system won't be able to last in the long-run and eventually, you will need to hire more Consultants to develop a new system as your business grows.
*A non-scalable system is one that cannot continue functioning well as it experiences higher usage. (Scalable Systems (Article) | The Internet, n.d.)
Mistake #6:
Hiring an IT Consultant who only asks you feature-related questions that do not understand your firm's processes
If your IT Consultant only asks you questions that do not understand the process of your key issue, then your Consultant isn't doing his/her job.
For example, questions related to the surface features of your problem:

An IT Consultant should possess sufficient knowledge to see through possible issues that you are unable to. They should ask questions that directly address underlying concerns of your business.
Such questions include:

These 3 questions are examples of in-depth and critical questions that you should ideally receive from your IT Consultant. This is to ensure the IT solution caters to your requirements and can be implemented with minimal hiccups.
Mistake #7:
Hiring an IT Consultant who does not understand security threats
Systems used by your business contain valuable digital assets that you wouldn't want to be leaked out to others. Hence, an IT Consultant has to consider this when developing the IT system.
So, ensure that you check with your IT Consultant on whether he/she has included the necessary security measures into the system.
Finding the right Consultant for you.
The right IT Consultant is one who thinks for your business, and not a mere salesman or project manager who is only interested in sealing the deal to profit off you.
As long as you avoid these top 7 common mistakes when engaging an IT Consultant, you can be sure that your money invested won't go to waste.
Chat with us today via our customer live support and let us know if there are any particular areas we can help your business in! We, at Q-Zone Tech, are more than willing to engage with you regarding your firm's consultancy.