While technology is essential to leverage change, there is danger in becoming too reliant on the newest software. You should keep in mind that technology works best alongside human innovation for your business to thrive in the coming decades, hence you need to strike the right balance. 
For small and medium-sized businesses, technology can make a difference in driving your business forward — making you stand out from the competition. As written in a couple of my previous articles, we can see how technology has made your business processes and models much more efficient while producing quality results. Specific examples include your facial recognition technology, finance technology, mobile applications and many more. 
Together with the myriad of benefits that technology brings in boosting your business's productivity, I am sure that you've heard of disruptive technology — but it's not until you see real-life examples of long-established businesses failing that it becomes clear just how disruptive these can be. 
 
One of the many businesses that fell into the trap of disruptive technology:




Do you remember Kodak? The place where you develop your films and photos? Yes, that's the one. The company was once massive, with 140,000 workers, and a brand value ranked alongside Disney, Coca-Cola and McDonald's. Unlike other companies, Kodak wasn't disrupted by a young and hungry competitor. It was the digital camera, which one of their own engineers actually invented. Rather than taking the bold leap away from their lucrative film sales and into digital media, they simply tried to pretend the innovation didn't exist. But evidently, that was not the case as the rise of digital cameras and Kodak's decline were inevitable. 

Therefore, it is crucial to obtain a healthy balance between technology and your business to ensure long success moving forward. So, here are a few things you can take note of when using technology for your business.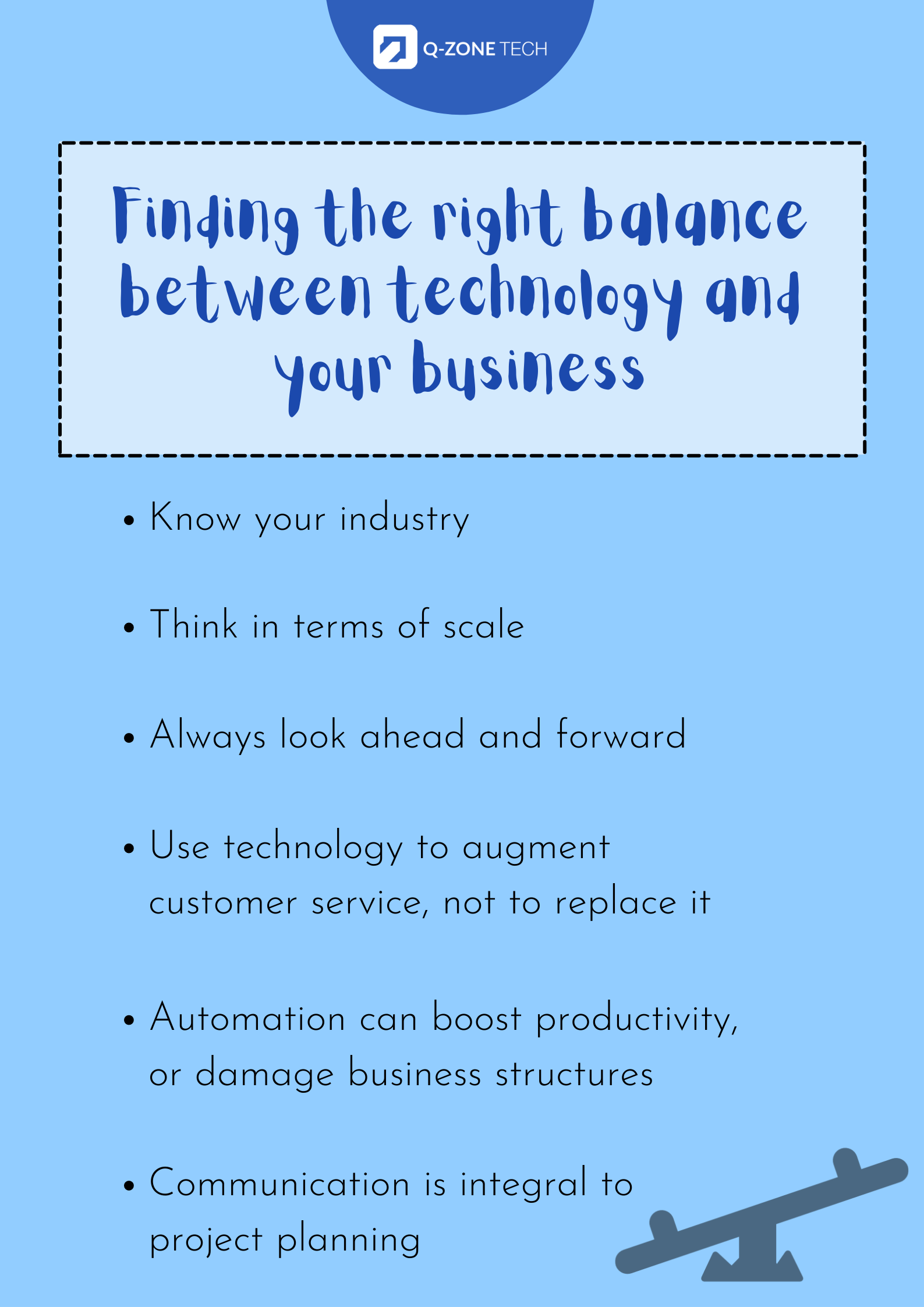 Being surrounded with a variety of technological devices, you may get carried away and adopt every technology you face into your business. By doing that, your business is going to become bloated and overly complicated. 
It is important to remember that there are going to be pieces of equipment that specific businesses always need: warehousing needs are going to be different from office needs which are going to be different from the needs of something like a restaurant. However, there are also some things that all businesses need. Every business needs access to the internet in the modern age, as well as the ability to update a website and social media outlets. 
Hence, consider the specific needs of the industry your business is in but also the general needs of your business. 
The thing about technology is that it almost always constitutes some kind of financial investment, whether big or small. If you're running a small startup then investing huge amounts in technology that's not really necessary is seriously a risky move. Remember, you don't need the kind of tech that companies like Apple use when you're just starting out. Think about the scale of your business
 and adjust your tech expectations accordingly.  
Always look ahead and forward
We live in an age where competition is super tight and technological trends simply change in a blink of an eye. Because of this, you need to be constantly aware of new developments within your business's industry. Missing out on a new technological innovation could easily result in your business getting left behind by the competition.
Make sure that you're always following as many tech and business articles and publications so that you're always right on the cutting edge.
Use technology to augment customer service, not to replace it
Technology is resetting brand loyalty, speed of delivery (basically, customer service) is now becoming more important to consumers than brand prestige.
A combination of cutting-edge technologies and sleek web-based communication pathways are the key ingredients to a well-managed customer experience. However, it's important to remember that technology is an enhancement tool, and should exist alongside pre-digital customer service know-how.
Overuse of CRM software can hurt your business: you need to use it well to win the best results. As always, remember to inject human understanding into the process. Automation creates the risk that customers will not feel their complaints and desires are being heard to counter this effect, you need to creatively manage your customer communication pathways.

Automation can boost productivity, or damage business structures
Ever since technology became a significant part of our lives and has advanced rather rapidly, the fear of losing our jobs to machines and robots started to develop. For your business to adapt well in the coming decades, you must implement change with intelligence. 
Automating your HR systems can create big savings, but removing your entire human resources workforce is never a good idea. Information and insights collected from senior employees are valuable assets that your business should not forego for the sake of implementing artificial intelligence. 
Your latest software purchase can do the admin more efficiently, but you should never underestimate the value of people power. 
How to ensure you strike the right balance? One way is to conduct a planning method called process mapping that allows you to create a common understanding of the entire process and the specific contributions of individuals.
Communication is integral to project planning
With a range of effective digital planning and communication tools, it is easy to overlook the need for traditional communication lines.

A project roadmap allows you to achieve the necessary level of organisation for a project where people drive tech and not the other way around. This planning tool can be read and understood in less than three minutes, making it an ideal communication tool for businesses of any size.
If you invest in the right technology, you will be able to increase your business's productivity by as much as 13%. Technology can also be utilised to produce a competitive edge, reducing project timeframes, allowing you to provide a more efficient service than your competitors, at better rates.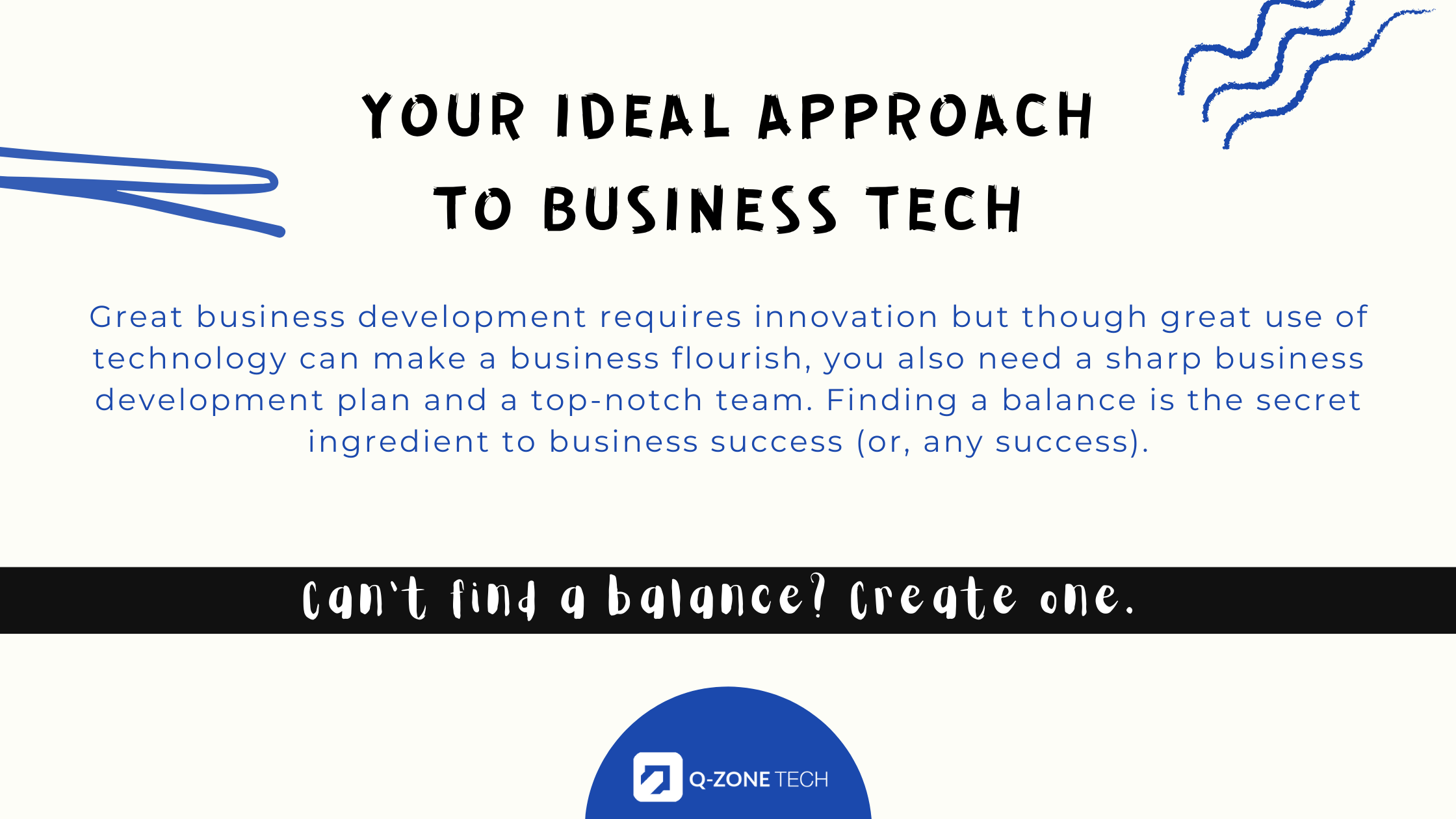 Need additional opinions on what kind of technology you should incorporate into your business?
Come and talk to us today
as we are more than willing to have a chat with you on this!
As we specialise in branding and marketing and information technology, we will be able to provide you and your business valuable insights on these areas.
Own an SME?

At Q-Zone Tech, you can
claim up to 80%
grant support for your projects under the Enterprise Development Grant (EDG)!