There is no doubt that there's not one single person who does not know about Facebook, Instagram, Twitter and the ever trending social media platform called TikTok (and many many more, if I may add). The question is, how have these social media platforms affected our lives in terms of managing businesses and how have they infiltrated our society today?
In this article, I will be focusing on 3 main benefits that social media brings to your business.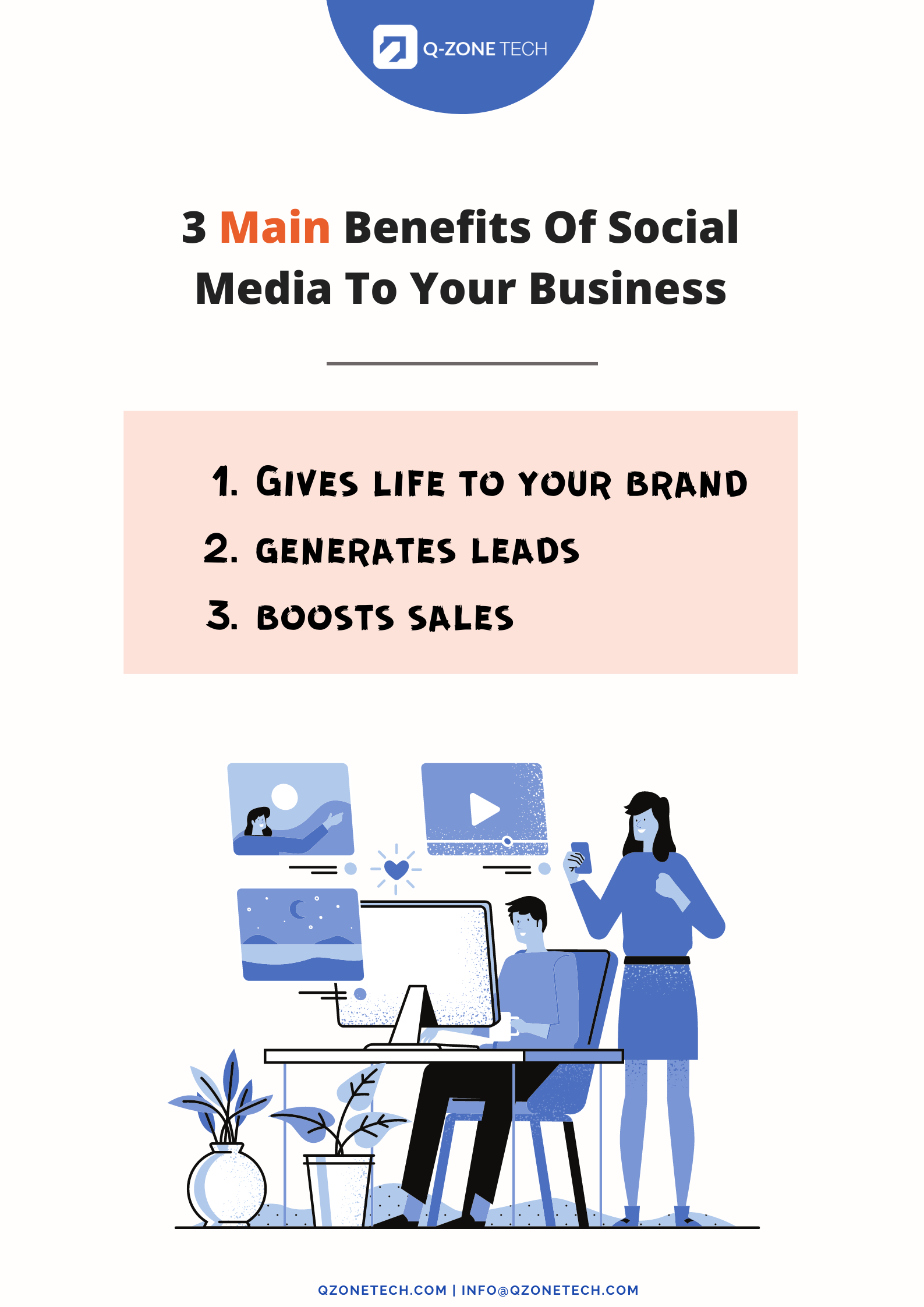 1. It gives life to your brand 
The biggest benefit of using social media is that it humanizes your brand. It shows people what you do is more than a company logo. Using social media platforms to create real human connections
Social media gives you the ability to showcase your product or services improving the lives of your current customers. It can also encourage others to improve their lives in the same way. That can have a huge impact on your business.
How should you start? Start by posting a video on your social accounts of current customers talking about how you helped them solve a problem. Position your customers as the heroes of their stories and your brand as the guide. By showing others how your company impacted someone else, you can be sure you will attract more business.
The goal is to establish yourself as a subject matter expert in your field.
It's also important to think about user intent. Social media users are looking for engaging content that doesn't go too deeply into detail. But the content does need to provide emotional value.
This is a different mindset from that of people searching for details about a product or service. Keep user intent in mind before posting.
2. It helps you generate leads 
Social media offers an easy and low-commitment way for potential customers to express interest in your business and your products. Lead Generation (Lead Gen) 
is such an important benefit of social media for business that many social networks offer advertising formats specifically designed to collect leads.
For example, McCarthy and Stone used Facebook lead ads that allowed people interested in learning more about their real estate projects to learn more about the properties, with just a couple of taps.
The ads wound up producing 4.3 times more sales leads than the year before, at a cost 2 times lower than more traditional digital prospecting campaigns with real estate ads.
3. It effectively boosts your sales    
Your social accounts are a critical part of your sales funnel 
—the process through which a new contact becomes a customer. 
As the number of people using social media continues to grow and social sales tools evolve, social networks will become increasingly important for product search and e-commerce. The time is right to align your social marketing efforts with sales goals. 
Another reason why social media can effectively boost your business's sales is the increased opportunity in partnering with influencers. Recommendation from friends and family play a huge role in consumer decisions, as do reviews. When you get people talking about your product or company on social media, you build brand awareness and credibility, and set yourself up for more sales.
One key way to drive social word of mouth is to partner with influencers — people who have a large following on social media and can draw the attention of that following to your brand.