Everyone plays games be it as a hobby, to pass time or for leisure. From indulging in games like solving crossword puzzles to playing Pokémon Go, there is a game catered to everyone's liking. However, the idea of gamification in the workplace isn't as simple as bringing games to your office. So, what is gamification?

Gamification in the workplace is the use of game mechanics in a non-game context. It is very much integrating game elements into your workplace. 
Have you wondered how incorporating gamification in the workplace brings your working environment to a whole new level? In this article, I would be sharing with you the benefits of gamification and what impacts of introducing game mechanics into your business!
All about gamification
Gamification is more common than we think it is. Some examples of gamification in our daily lives would be Shopee's Spin the wheel game or My Starbucks Rewards Programme. But how do we bring about gamification to the workplace?

There is a vast range of ways to infuse gamification into your business. Internally, point systems, leaderboards and many more can be put in place to increase internal engagement and motivation. Externally, reward systems and many more can be put in place to increase consumer motivation as well as customer loyalty.

Gamification and its benefits
With that said, here are a list of benefits gamification brings about:
Gamification and its impacts
Implementing game mechanics into the workplace would bring about various impacts. Internally, it increases motivation, improves productivity and efficiency as well as encourages creativity. Additionally, it would make it easier to train and develop skills among employees, encourage employee participation and engagement. Gamification in the workplace will result in giving them a sense of satisfaction, this would result in them performing better.
Whereby, externally, it increases consumer engagement, giving consumers a sense of purpose as well as promotes customer loyalty. Additionally, it also drives sales and increases profit.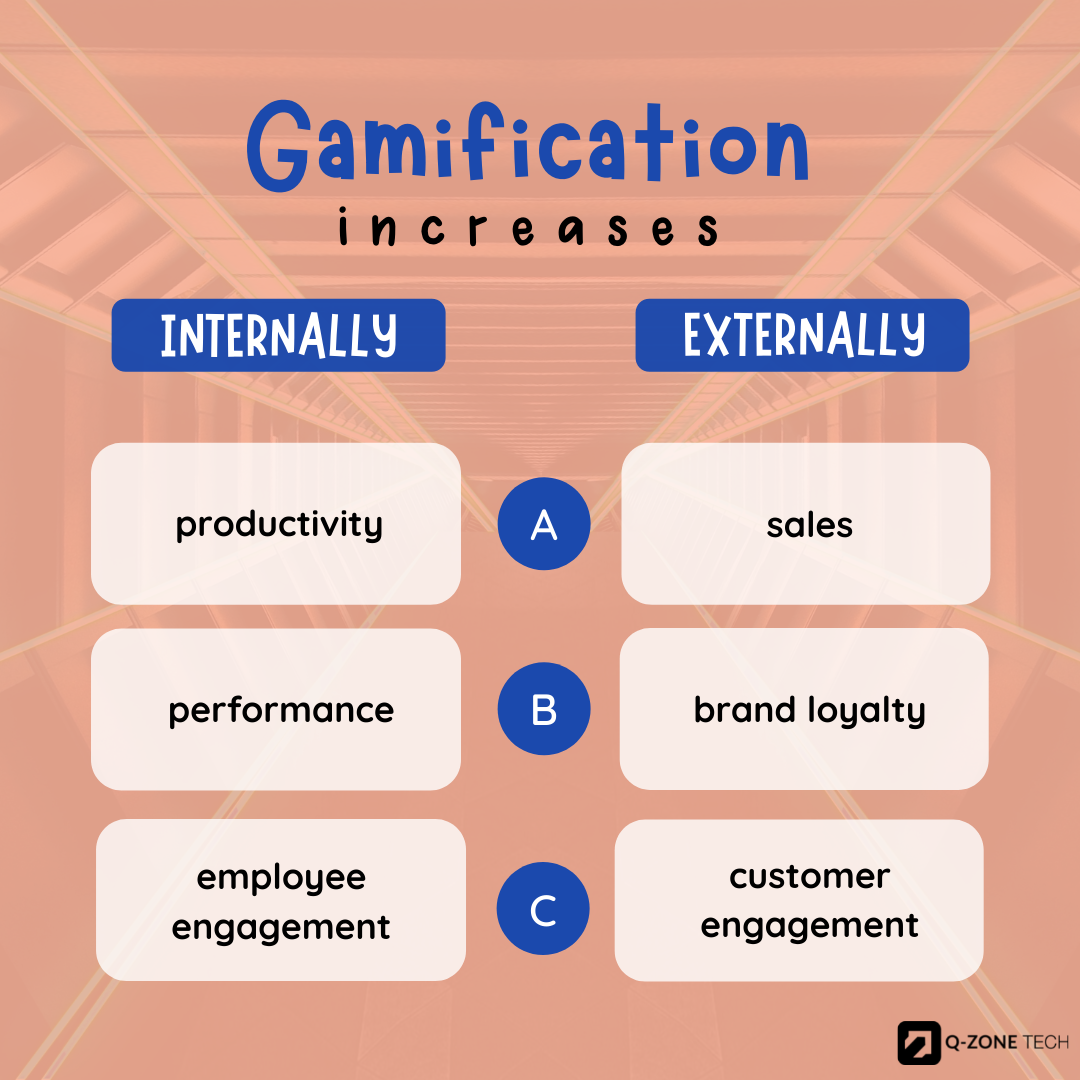 Given all the benefits and impacts gamification can bring to your business, it is worth investing for! Furthermore, when done right, gamification can boost employee productivity and engagement.