Before we dive into the advantages and disadvantages of Enterprise Resource Planning (ERP), let's do a quick recap on what exactly ERP is!
Enterprise Resource Planning (ERP) is a type of software that businesses use to help manage their day-to-day business affairs, for example, project management, accounting, supply chain management, etc.
Using an ERP benefits a company in many ways, for example helping to reduce operational costs, increasing workplace productivity and efficiency, etc. There are also plenty of features you can add to an ERP system to suit your company's needs.
In this article, we will be telling you about both the advantages and disadvantages of using an ERP system in your company!
Advantages of an ERP System
There are plenty of advantages to using an ERP system. One such advantage would be an increase in team collaboration in the workplace! By using an ERP system, communication and collaboration are increased between the different departments. For instance, employees would have access to information from different departments, this reduces information silos and helps to increase the sharing of information.
Another advantage would be having total visibility in the company. An ERP system makes data accessible to every department in the company, thus enabling them to make decisions easily. Information is also stored in a centralised location, allowing for increased collaboration and more streamlined completion of tasks.
Some other advantages of using an ERP system include having improved reporting and planning, reducing operational costs, improving work productivity and efficiency as well as improving your company's customer service!
Disadvantages of an ERP System
With advantages also come disadvantages. Using an ERP system is no different! Here are some disadvantages of using an ERP system in the company.
One of the biggest disadvantages would be the cost of implementing an ERP system. Such costs can be avoided if companies opt to use cloud-based solutions however, it also has its own disadvantages. For example, users can only continue accessing their data if they continue paying for the service.
It is also challenging to implement and maintain an ERP system in a company. It takes time, funds and resources to get the system up and running as well as maintain the system, for example, hiring ERP consultants, software training specialists, support staff, etc.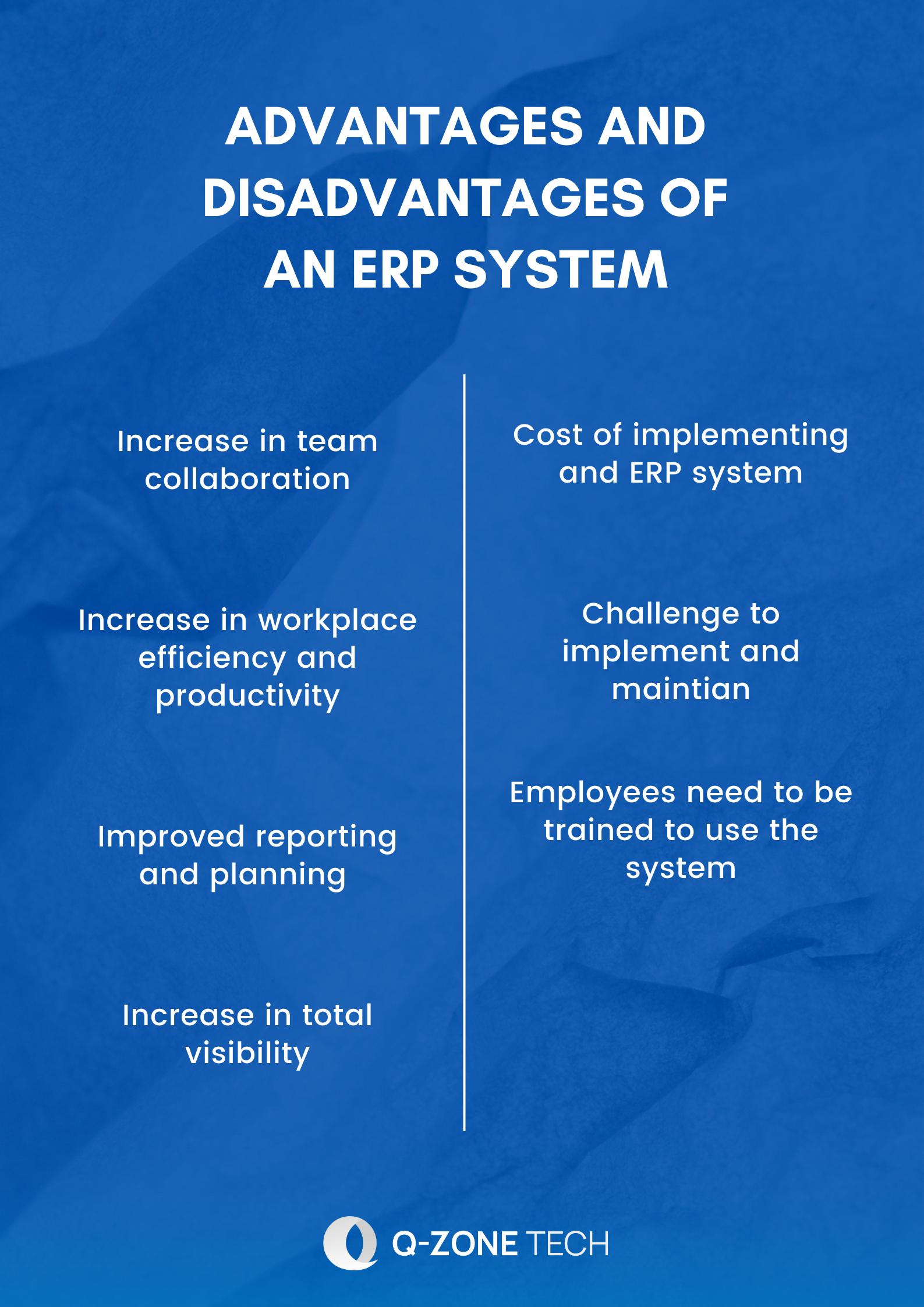 Using an ERP system has its advantages and disadvantages. However, the advantages greatly outweigh the disadvantages. Through this article, we hope that it convinces you to look into implementing an ERP system for your company. Email us at info@qzonetech.com for more information!