Case Study
PCO Engineering Pte Ltd
REQUIREMENTS
Rebranding Strategy
Marketing Collateral
Brand Design
Website
The Client
Understand and Research
Established in 2009, PCO Engineering is a Singapore based building and construction business. With more than ten years of experience in the industry, the company is able to offer a range of services from home renovation, commercial renovation to electrical works. In order to distinguish itself from the saturated market, PCO Engineering decided to introduce a complete new rebranding and marketing of the business designed and prepared by Quality Zone Technology. We created a brand identity that helps to communicate the positioning, values and personality of the company.
PCO, a direct contractor in the construction and building industry, is looking for a complete business rebrand that includes its mission, vision, and values. The business faces intense competition and needed a new brand identity that would elevate the brand and set itself apart from competitors. The challenge was creating a brand that focused on both the primary and secondary business of the company. Furthermore, the absence of an online presence decreases PCO awareness, resulting in a stronger brand reputation among competitors.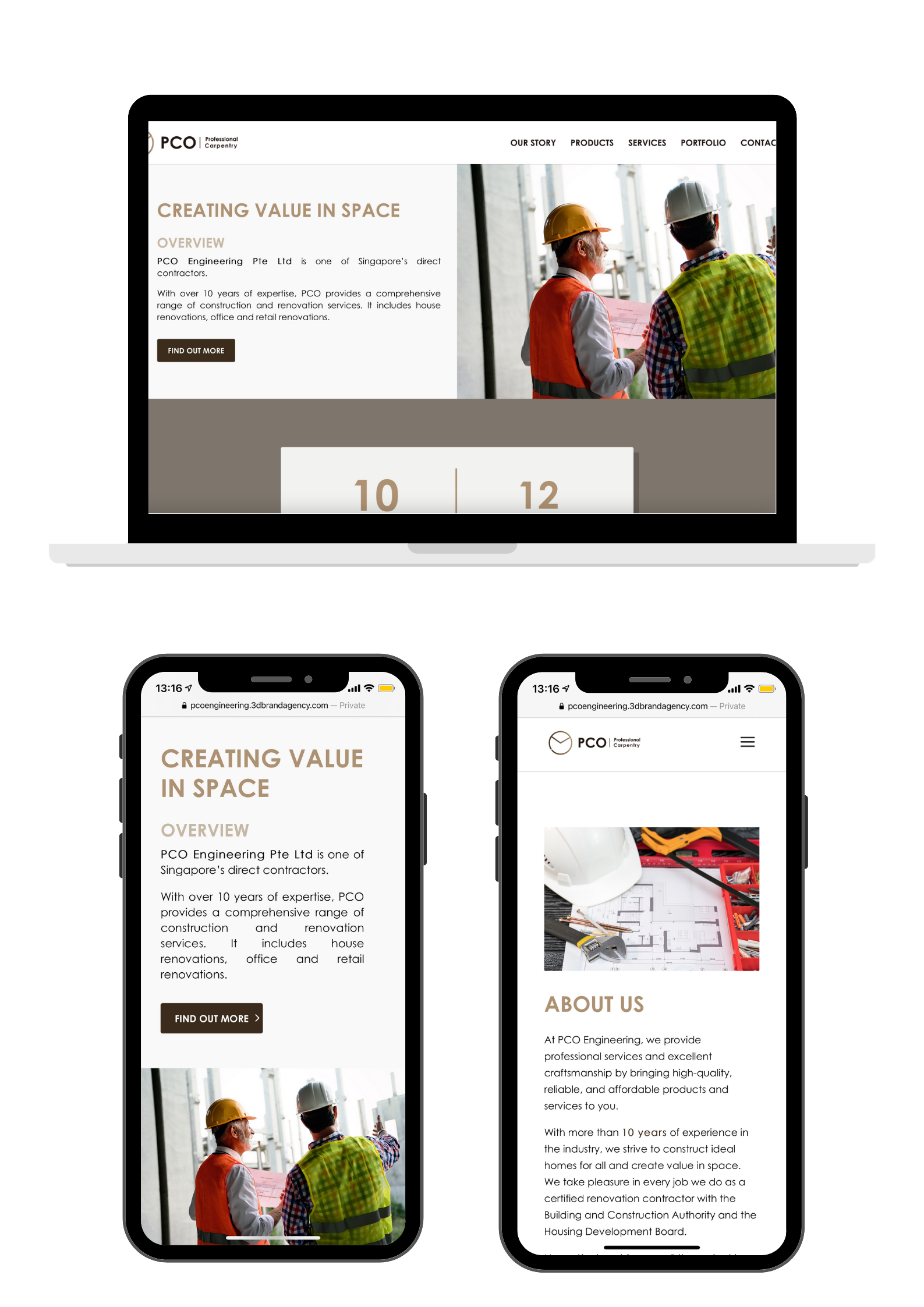 The brand design was the initial phase of PCO's rebranding, which used a multi-tiered strategy.
Logo Redesign from the Ground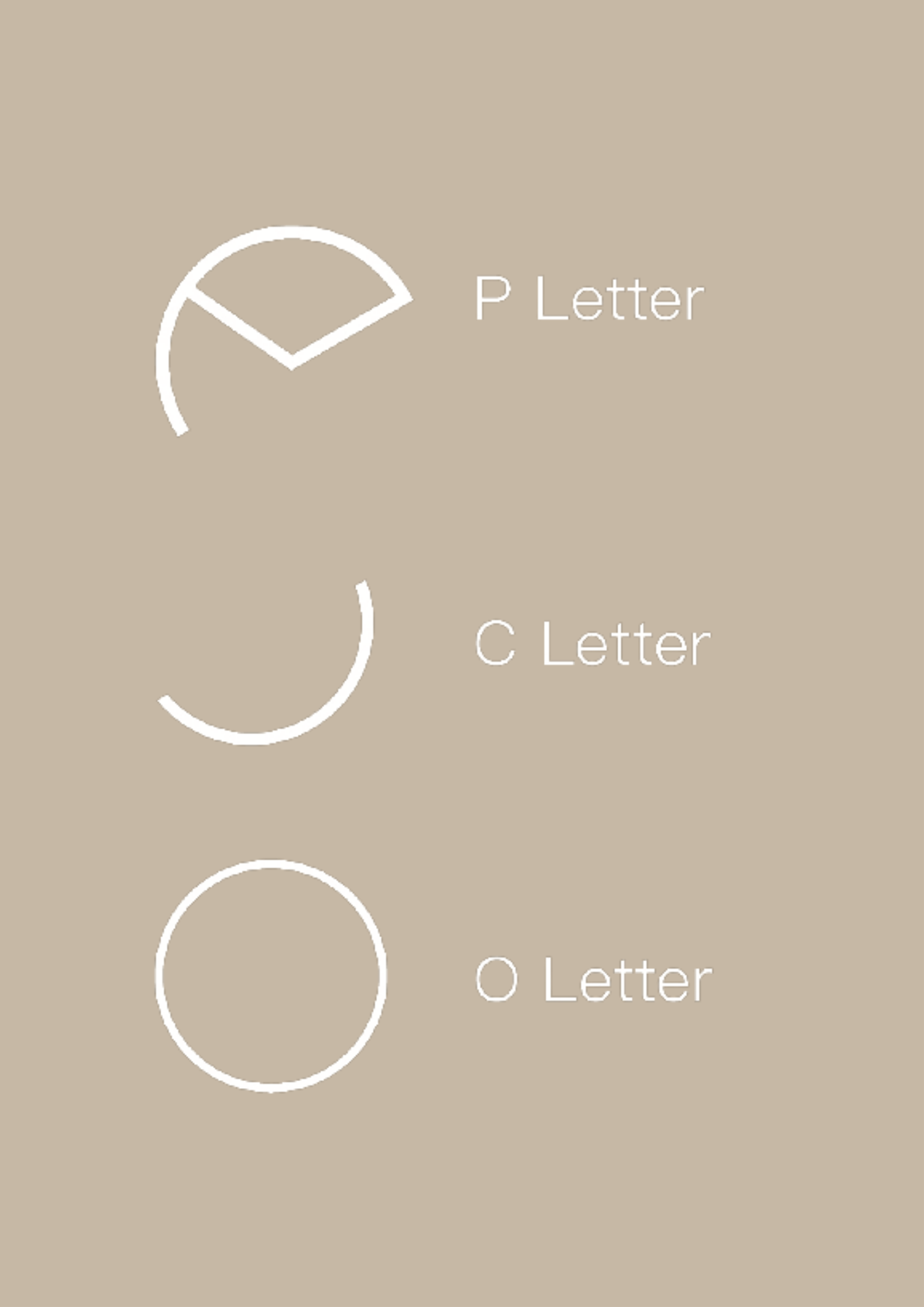 The three letters P, C, and O are integrated into the new PCO logo. The entire design is created in the clock's position, which symbolises 10:10. It signifies perfection and emphasises the company's commitment to completing all projects with passion and perseverance. Furthermore, the logo's angle is slightly higher than 90 degrees, indicating the highest level of professionalism and devotion among PCO furniture makers.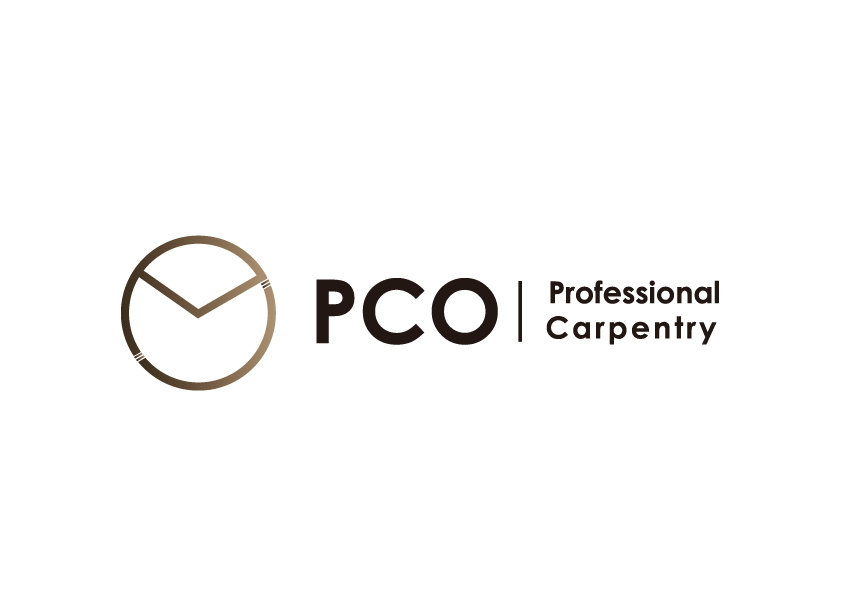 Colour Palette & Typography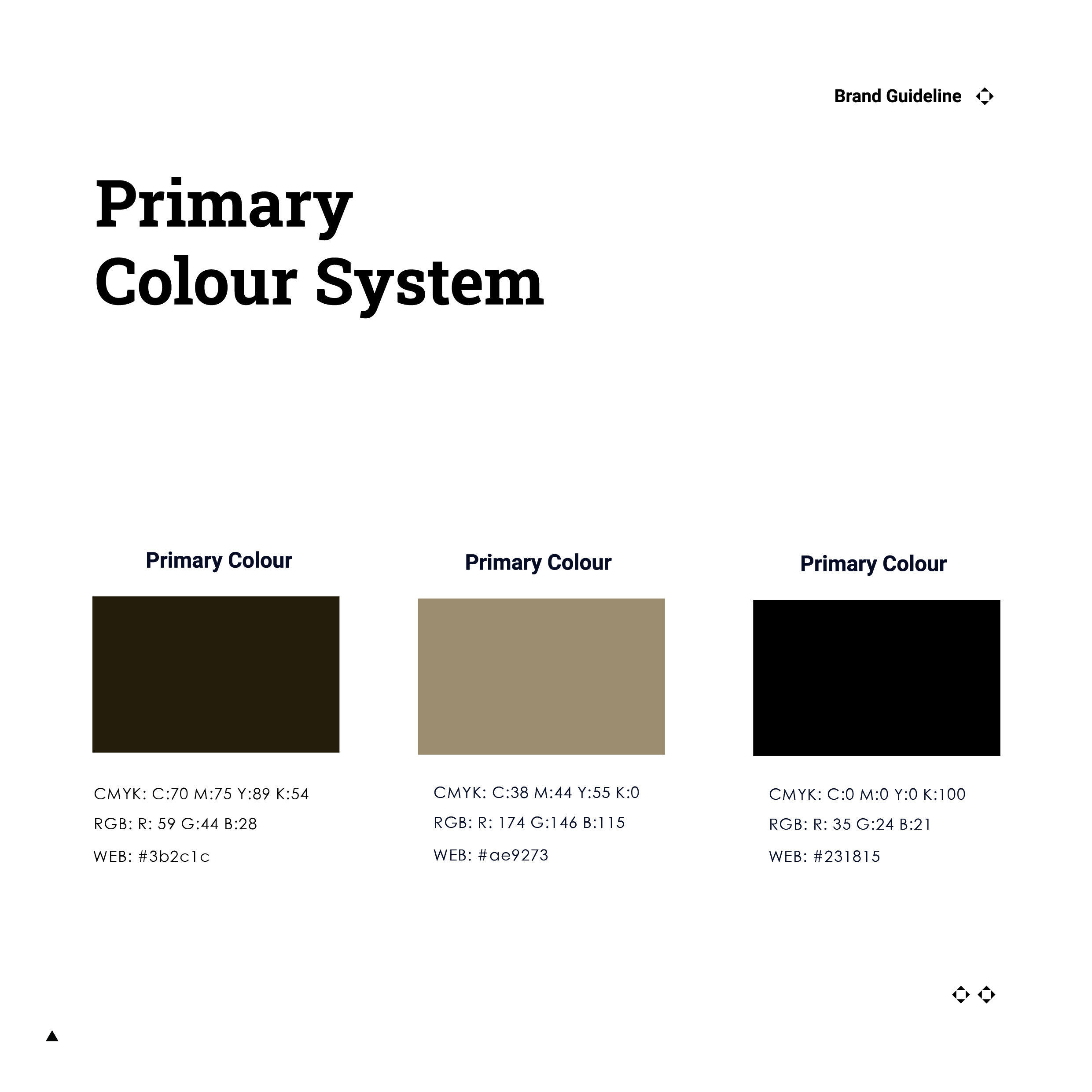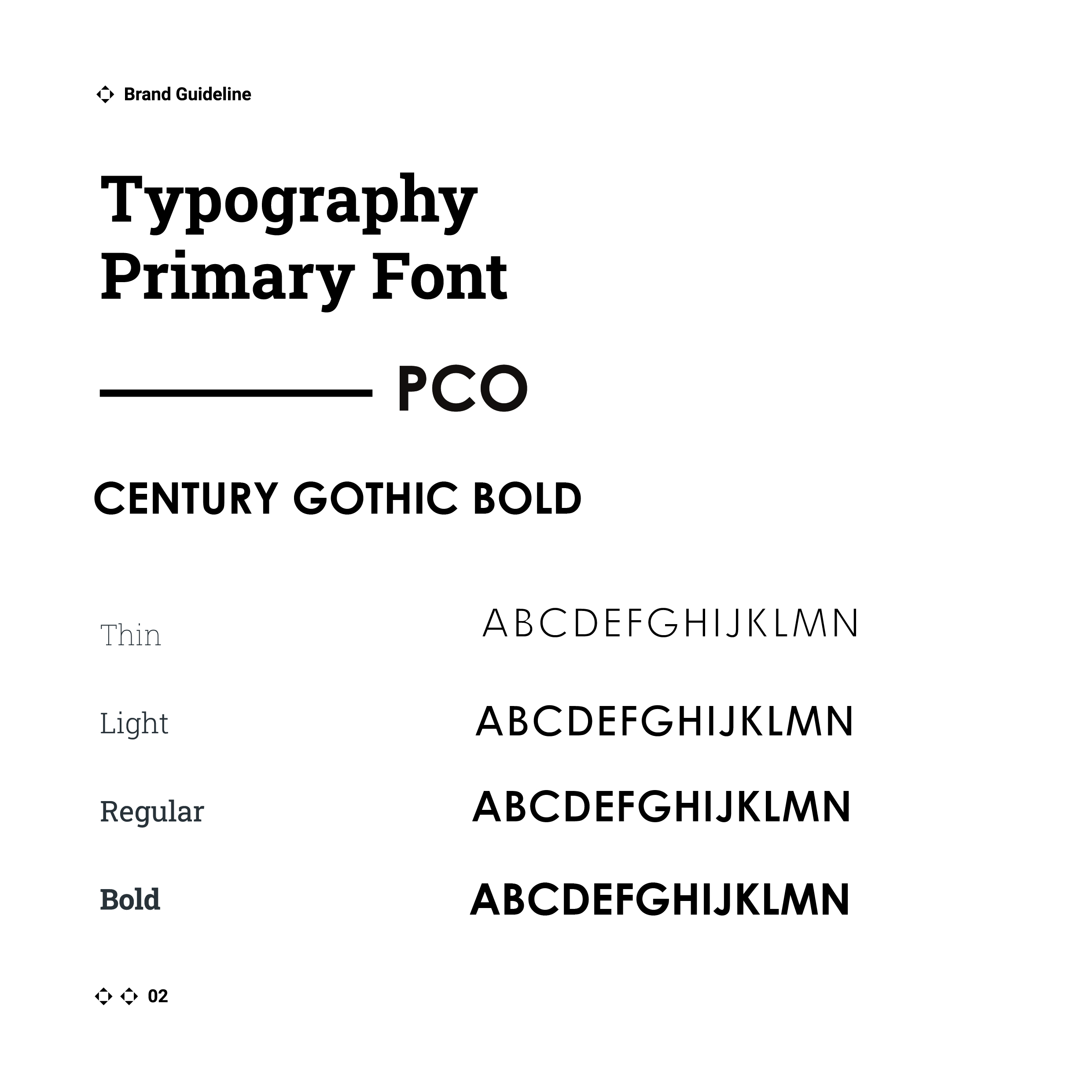 PCO's colour palette is a mix of natural and earthy tones that represent the breadth of the company's operations in the construction and building sector. The palette expresses the brand's maturity and dependability, which aids in identifying the company's particular identity. Furthermore, the colour palette's brown tones help to represent what the company stands for. Darker shades of brown portray the brand as earthy, rich and lustful feels whilst lighter shades of brown will represent approachable and honesty. The primary typography used is Century Gothic Bold, a geometric sans serif font designed to look modern and neat in depicting the company and work it performs.
The rebranding strategy focuses on the new identity of the business in accordance with PCO brand personality. The company has established its unique selling point focusing on providing quality, reliability and value for money products and services to its consumers. PCO  stand by these values: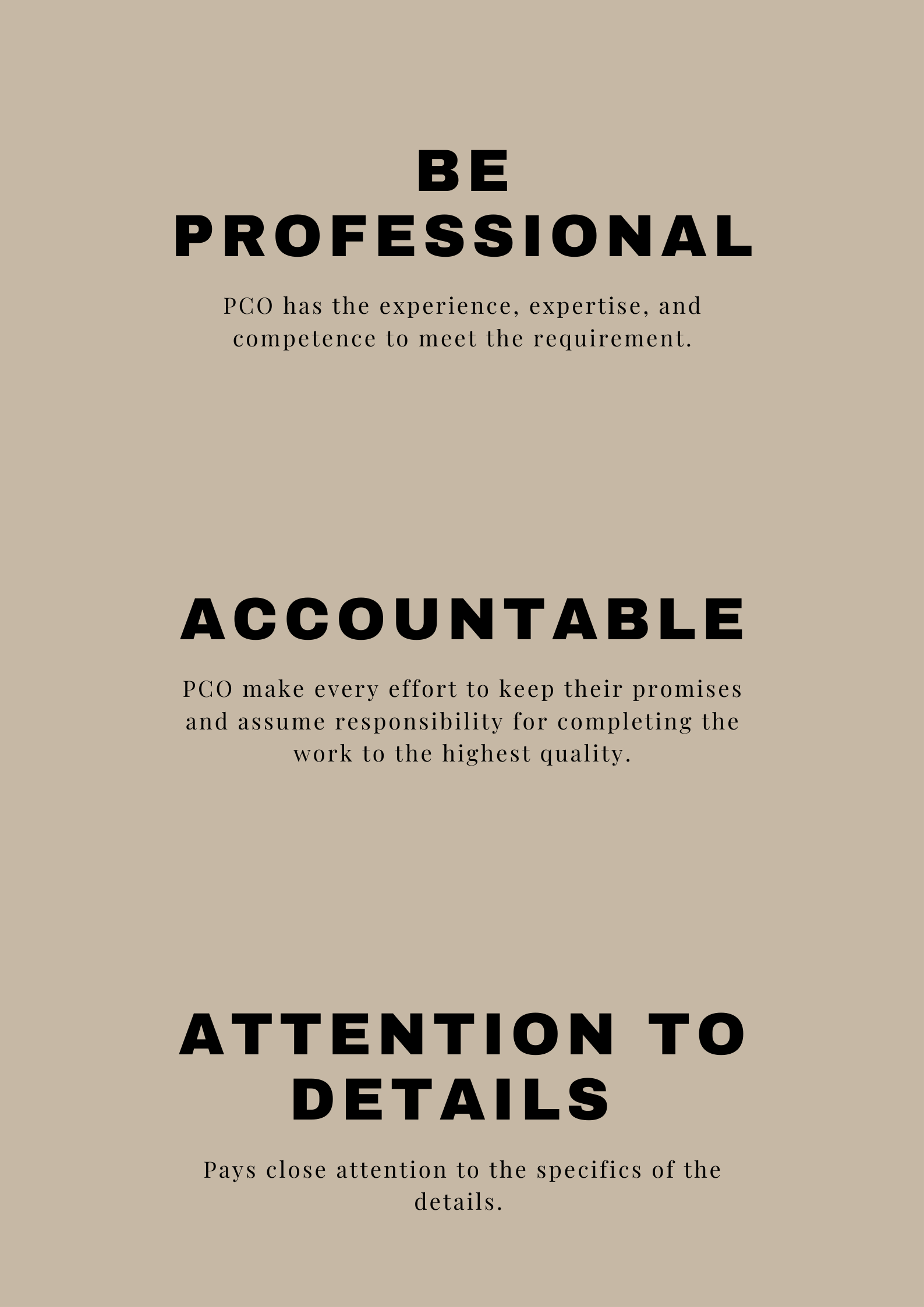 Building an Online Presence
Aside from the rebranding of the business, we have assisted PCO in establishing an online presence through a website and social media platforms like Facebook and Instagram. It helps PCO in increasing their online presence that helps to truly reflects their brand personality on who they are and what they do. Moreover, we have created a comprehensive digital marketing strategy to maintain consistency and attract new prospects for the business.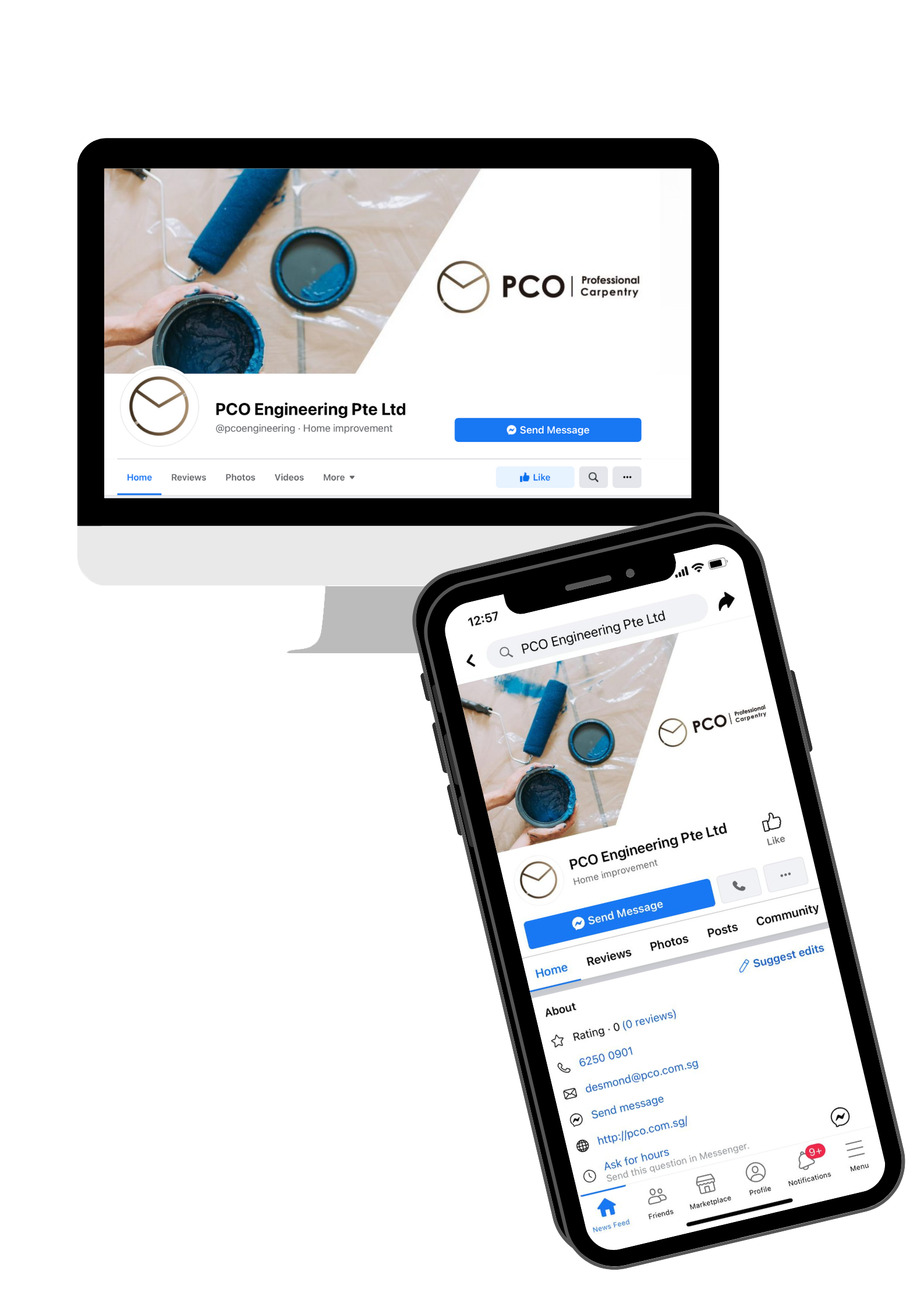 Quality Zone Technology helped rebranded PCO with a fresh new look and online presence that helps to highlights PCO's work, expertise and ability to deliver quality, reliable and value for money work. The new visual identity and brand guideline provides a consistent touch for the company across all its channels maintaining the brand message and tone of voice. It ensures its consumers will recognise the brand with a new distinct personality. We have created a matching business card design, letterhead and more.
Our work on PCO is ongoing, and it has been a lot of fun. We anticipate witnessing a rise in brand awareness and sales as we execute PCO's digital marketing approach with the inclusion of campaigns.
In addition, the branding and marketing project of PCO has gotten 80% of its grant under Enterprise Development Grant. If you're ready to analyse where your company needs a new branding and marketing solution, request a meeting with one of our specialists now to start the conversation.